From 4WD All Terrain Off Road Vehicles to Luxury Mercedes with leather seats and onboard WIFI 
Queenstown Expeditions has invested in state of the art technology with MAN all-terrain vehicles, making for a far superior experience for our guests compared to most other all-terrain commercial tour vehicle.
Spacious
One of the prime objectives of our fleet is to provide exceptional comfort which starts with ample room for each passenger. Our vehicles boast more leg room than most other all-terrain commercial tour vehicle.
Safe
MAN has long been known for exceptional safety in passenger cars and their commercial vehicles are no different. The inherent safety features are too long to list but include excellent handling and a degree of 'over engineering' that's in the DNA of all MAN vehicles.
Quiet
Our vehicles are some of the quietest of their kind thanks to superior coach design and exceptional sound deadening materials. On the inside, the use of carpet and velour soaks up any interior sounds and give that plush, luxurious feeling that is rare for most other all-terrain commercial tour vehicle.
Smooth
With many outback roads still being on the bumpy side, the last thing you want is to be bouncing around your seat all day. Our vehicles have one of the smoothest rides in the industry, uniquely designed for any off road we travel on.
Comfortable
No expense has been spared in the building of our fleet. These exceptional features all add up to provide an unparalleled level of comfort for our passengers.
Comfortable reclining seats
Generous leg room
Glass roof viewing
Road cam viewing
Multi-lingual GPS commentaries
Vehicle monitoring system
DVD player & television
State-of-the-art PA system
On-board refrigeration & hot water urn
Comprehensive first aid kit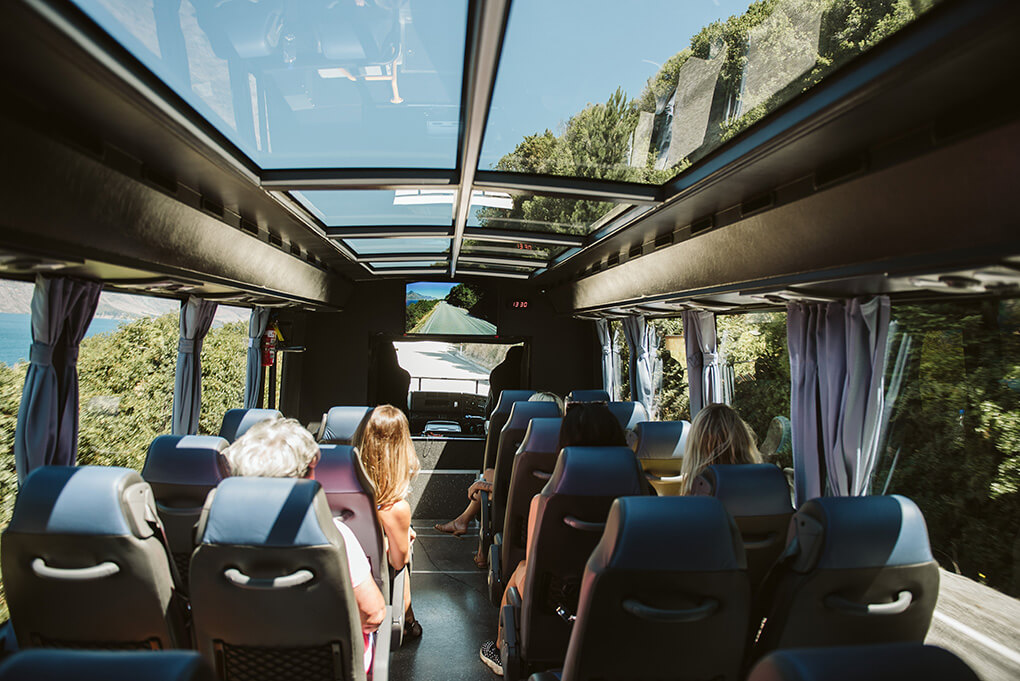 Book Your Queenstown Expeditions Tour Now
Get Our Best Price When You Book Direct